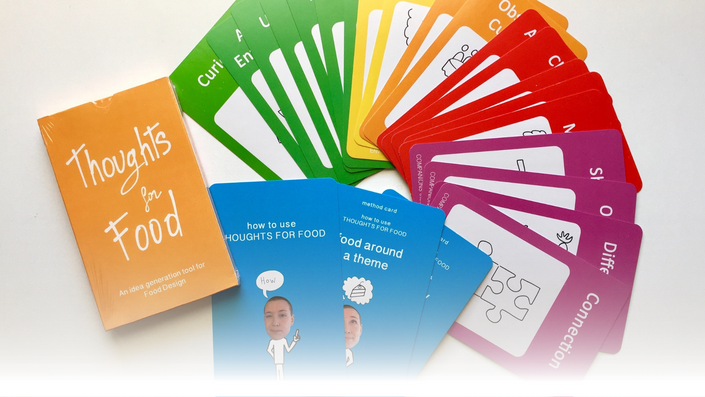 Thoughts For Food: food creativity cards tool
A Food Design Thinking cards method for idea generation
Whether you are a home cook wanting to prepare a meal for friends and family, a chef, the owner of a restaurant, a baker, a food truck owner, an eating designer, a food service designer, or a food system designer, you can use the Thoughts For Food cards to help you generating new, more complete, more meaningful ideas for dishes, products, and whole or as well as smaller aspects of services or systems.
Thoughts For Food helps you generate new ideas on anything related to food or eating
By enrolling in this course you get:
- One deck of Thoughts For Food cards delivered to you*
- One video lesson explaining how to use Thoughts For Food
* Upon enrolling in this course please send an email with your delivery address at onlineschooloffooddesign at gmail.com. Shipping costs are included in the price.
The Thoughts For Food cards are the result of years of my research, and summarise the characteristics of the ideal eating experience. These cards show the twenty themes that make an eating experience ideal, emotional, memorable, and meaningful. The themes presented in Thoughts For Food, which will guide you to generate complete and meaningful ideas, are based on empirical research; they came from analysing the results of various focus groups using the Food Design method called TED, Themes for Eating Design. (Click here to read more about the research behind TED)

The Thoughts For Food cards are divided in five categories, which are the different aspect of the eating situation: food, companion (the person/people we eat with), others (those eating around us), environment (the eating space, where the eating happens), and general (including characteristics that influence the atmosphere, or that apply to any other aspect). These aspects all influence the eating experience. It is only by considering all these aspects in your design process that you can achieve a more complete eating experience, and Thoughts For Food helps you do that.

You can use the Thoughts For Food cards to design a dish, a meal, a dinner, an eating event, a food product, a food service or really anything related to food and eating. The video lesson you will find inside this course will propose two methods you can use to use these cards. The first can be used to generate ideas around a theme, and the second can be used to generate ideas on food or eating events that 'tell a story'. But really, you can use the Thoughts For Food cards whatever way you want! Have fun with them, explore how you can use them and how they can be useful to you!
Your Instructor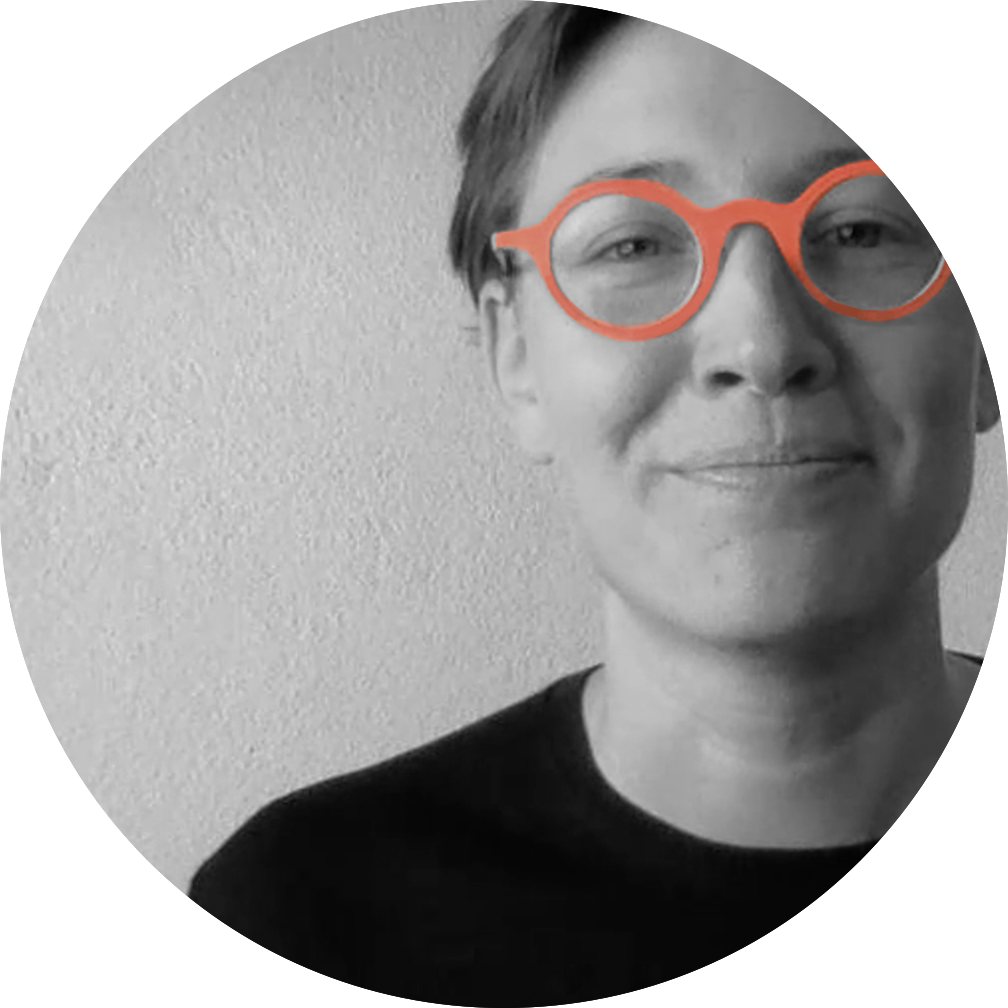 I'm a future-optimist stargazer working for this Earth's evolution through unity. I'm the Founder and Chair of Inspiration at the Online School of Food Design. And I love Pizza.

II have been immersed in the world of Food Design for 16 years. I approach Food Design from a Design background, and specifically from Design Theory. I love Food Design because food intrigues me: it's the most intimate material designers can design with, because it's the only material that triggers all 5 senses, and because it enters people body and becomes part of people's body, therefore requiring what is possibly the most intimate act of trust from consumers. Furthermore, food disappears. Food doesn't last. This to me means that designers are not really designing food, but they are designing for memories. As a human being, I'm fascinated by human potential. Therefore, as a designer I started designing for designers.

Within Design Theory, I became very passionate about the creative process, and how people can express their potential through creativity, and the difference they can make in the world. The combination of these interests poured out of my own creative journey in the form of a creative process for food designers. I have in fact developed the Food Design Thinking methodology, which is now a whole process with 52 methods. This is a Design Thinking process (a creative process) that is food-specific. In other words, it is specific for people designing anything around food and eating: food products, food events, food services, food systems, etc.

As a consultant, I thrive when my clients discover that creativity is always within reach, and that, yes, there's tools like food Design Thinking that can help but their own unique "soulprints" and fingerprints are the best ingredient to any creative outcome. I bring Food Design Thinking to companies facilitating workshops or full processes, and also training Food Design Thinking facilitators and making companies self-sufficient when it comes to creativity.
I have a PhD in Design Theory applied to Food Design, an MA by Project in Food Design, a BA in Industrial Design, and a Postgraduate Certificate in Learning and Teaching in Higher Education. I'm really in love with this discipline! That's why I am fully committed to help you in your career, and I want you to become an amazing Food Designer.
I am the Founding Editor of the International Journal of Food Design, the first and only academic, peer-reviewed journal on Food Design, published by Intellect. In 2009 I founded the International Food Design Society, and since then organised the First International Symposium on Food Experience Design (London, November 2010), which was the first academic conference on Food Design, the International Conference on Designing Food and Designing for Food (London, June 2012), the 2nd International Conference on Food Design (NYC, November 2015), and the 3rd International Conference on Food Design (February 2017). I taught Food Design and Design Thinking at London Metropolitan University and Auckland University of Technology as a senior lecturer. You can find my publications here. I am an award-winning Food Designer, a Food Design researcher, consultant and a public speaker often invited to talk about Food Design, Food Design Thinking and my project In Search of Meaningful Food.
In short I'm just someone with a big passion for food, Design and teaching. All these passions led my career and have brought me to found this school.